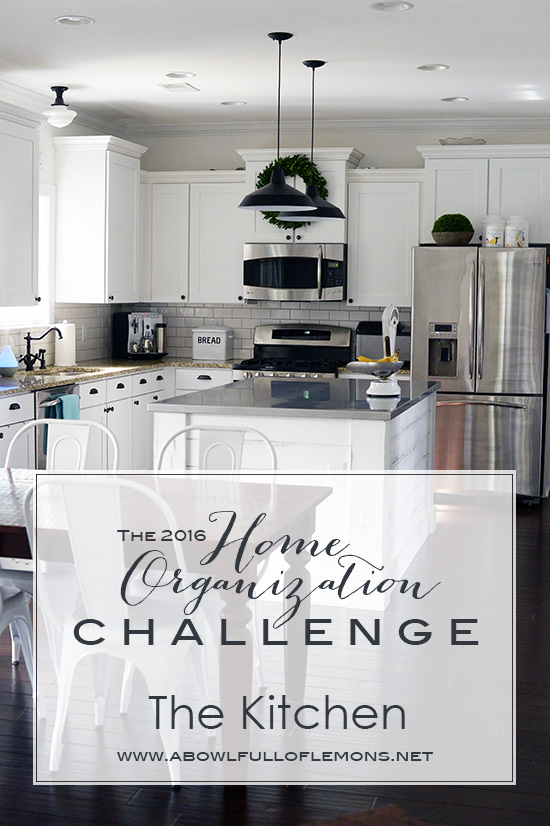 Every year I make plans to finally have an organized home. It doesn't take many weeks before I find myself full of excuses and eventually I simply let the idea fade away. Part of that is my perfectionism rearing it's ugly head, whispering that if I can't make it perfect I might as well quit while I am ahead! That has been the biggest problem I have had the past few years in every aspect, not just organization! It's also part of the reason I went away from my blog for so long once we got moved in and settled. Well I digress once again, it's time to restart my engines for 2016. That means the organization, the blog and most of all working on my projects in an orderly manner and sometimes scheduled manner!
This year I am not hitting the cleaning and organizational band wagon by myself! I am taking part in
A Bowl Full of Lemon's Organizational challenge
! She has a lovely group from around the world who is taking on this challenge. The first mountain we are to tackle is the kitchen, that's 7 days of glorious kitchen orderliness! I hear from friends that they just don't have the room, if they had a bigger apartment or home they could then get organized!
One day I told my daughter that I expected that her room was going to get picked up. She pleaded and cried and finally she said, "I have too much to do on my own, I need help!" I came to the realization that if she had too much to do on her own, then she probably has too much stuff! Now I am not saying that she has to purge all of it, but perhaps some of it needs to go into storage and be taken out for when it was needed! Then came the thought that if I couldn't handle the housework, then perhaps I had too much stuff as well! That is why I am determined to be honest about what we have. What do we need? What can we give away? Or what needs to be thrown out because it is broken or worn out? So this next week, I shall start with the Kitchen...Will you take up the challenge in your own home? Check out the first week
HERE
!
*\0/* Cheers
Shanna