I am a day late on this post, but I fell asleep early last night without finishing the ironing portion of my Blocks. I also did not complete the BOM block that I needed to redo yet. You will see a few posts form me today as this is my end of year clean-up report time as well., but I thought it would be too wordy if I put it all in one post. These blocks I think are rather hard until I found Inklingo's directions. I still have so much work to do, so I am kind of hoping that Bonnie does not do the big reveal tomorrow.
So on to the blocks!
Clue #5
Clues #1-#4
I just LOVE how Lorna describes her new linky party: "
Let's Bee Social!

is a Sew-Weet new weekly linky party for quilting bloggers.
A new post each Wednesday will allow you to add your own link to the

Let's Bee Social

linky party post."
The majority of the friends that

I have made while blogging have been through linky parties and blog hops. To be frank, I could not have gotten through the last few months without my blogging buddies

. They have been my encouragement and a good deal of support for me. And now another opportunity to make more friends and enjoy each other's work and lives!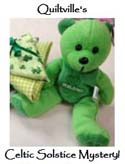 May you all have a wonderful new year!!!!
I am linking up to:
Celtic Solstice Link-up #5 with Bonnie Hunter@ Quiltville
Design Wall Monday with Judy@ Patchwork Times
BOM's Away with Lyn @ What a Hoot Quilts
*\o/* Cheers
Shanna