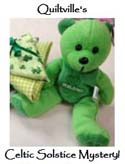 Round 2 of Bonnie Hunter's Celtic Solstice Mystery is still in the works, so I decided to skill ahead to Round or Clue #3! I bought the
Inklingo Shapes kit
for this mystery to see if it might not work well for me so that i could perhaps bring some of my work out into the livingroom instead of just staying in my crafting area in our bedroom. I have to tell you that Inklingo is really interesting actually. I just wish we had a better printer so I could make the most of it, but I did not do so bad in my printing efforts. One sheet will make 6 of the pinwheels and the sewing of them was amazingly quick! I made these six pinwheels and sewed up the rest of the sheets while watching an episode of
The Deadliest Catch
so for me that was pretty quick as I get distracted!
I will be trying to get these finished up tonight once Miss Z goes down to sleep. Every single one of my points are perfect for the first 6 squares which is not always the case for me, so I am very pleased so far! I also am working on getting Clue #2 completed before Friday, if I can, as well as finishing up some Christmas Gifts as there are only a couple more weeks left!! Although, if any family is reading this that hasn't already gotten your presents, then yours will be a little late this year...but I am not telling what they are!!
This is my first Clue round again:
Thank you all for stopping by today!
*\o/* Cheers
Shanna