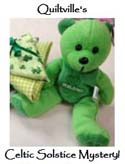 Celtic Solstice
I did it!!!!!!! I completed both Clues #3 & #4 for Bonnie Hunter's Celtic Solstice Mystery QAL! I have to admit that I am still behind on Clue #2, but tonight I am not dwelling on that! You will notice that all the fabrics are pretty much the same instead of the super-scrappiness that I showed in Clue #1 previously. Well, that is because I decided to make a second small sized quilt. I am making the scrappy one for myself and this one I plan to make for charity. By using the yardage I am able to not only clear out more space in my fabric cubbies, but it's great practice for me in using the Inklingo system. I cannot begin to tell you how much easier these steps are with Inklingo, but I still need some more practice as I have had a couple jams when I was being impatient.
BOM's AWAY
Do you remember the practice blocks I made a several weeks ago
HERE
? Well I finally turned the practice blocks into a baby quilt top! It will only be a 40" X40", but it helps me jump start a goal I have for 2014 to start using up the random BOM's that I have laying around as well as my orphan blocks which might be left over from other projects or tester blocks. Right now I am signed up only for one BOM at my LQS for this next year because I want to make a farmer Wife Sampler Quilt over the next 2 years!
This block to the right is a practice block for Mid-November's BOM from my LQS. Unfortunately I was in a rush so I majorly messed up the actual block when I attempted it before practicing, so I decided to turn back to the practice blocks before I gave it another go. I made 9 of these blocks now which I will also turn into a baby quilt once I figure out the sashing (should I go with the white or another color?). I am sure I will share more on that project next year, haha! I have been just waiting to say that! These have been projects I have completed working on the mystery quilt which I affectionately called my "pause projects" instead of "Leaders/Enders."
A Little black Rain Cloud
Now I am going to reward myself with a large cup of Hot Chocolate with whip cream on top and some more episodes of The Deadliest Catch! Thank you all for stopping by today!
*\o/* Cheers
Shanna
I am linking up to:
Celtic Solstice Link-up #4 with Bonnie Hunter@ Quiltville
Design Wall Monday with Judy@ Patchwork Times
BOM's Away with Lyn @ What a Hoot Quilts
.