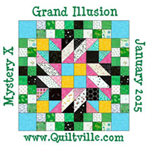 I have been working on a mini-version of Grand Illusion Mystery by Bonnie Hunter. When I say mini, I really do mean mini! I took the measurements she gave subtracted 1/2" then divided the number in half and then added back in the 1/2" for the seams.
There is a part of me that wanted to stop the process completely BUT once I calmed down the design has grown on me and I am not freaking out too much at my color choices. I should admit to you that my original intention had not been to do a reduced sized Quilt, but to make a reduced AMOUNT of blocks. So I will confess when I was in the process of making the gazillion HST's I simply made the wrong size so I cut them down to mini-version. AND trust me, it doesn't take less work just because the block sizes are smaller.
Where I am at:
Week 1-Half the blocks completed
Week 2-Quarter of the Blocks completed
Week 3-Half the blocks completed
Week 4-HST & Squares are cut, ready to assemble all blocks
Week 5-All the blocks are completed
I need to go check the mail box this afternoon because I ran out of my two solids and I am waiting to get my box! In the meantime, I plan to throw a couple of blocks together with the parts I have here.
If I am able to I will try to post an update tonight!!
*\o/* Cheers
Shanna